New adventures await! Not just one, but 3 BEASTS are joining, partners to bring along on your Torghast runs.
TORGHAST brings you a new event- Beasts of Prodigum. This week, when doing the non-twisting corridors, so the original Torghast floors and layers give you soul ash, you will have a new event and brand new BEASTS are joining you in your adventures. There's three types of beasts sighted so far, hopefully Blizzard will add more. You can get to choose if you want to run with a beast inside Torghast or not at the start of a run. There's a tanky beast, an AOE silence beast and a buff beast. This event will be good for your alts if you want to get your soul ash but have no gear.
Shade Essence Lure, this calls Valioc who is a powerful soul eater that can inflict area damage and silence enemies. Or calls forth Nal'tari, a powerful soul hound which can howl and increase allies' combat abilities. This is a big help when you are inside one of the Toghast wings with many casting enemies.
Chain of Command, this calls Horgul, Hound of Darkness. Horgul will troll and taunt enemies. It will sometimes cast Leaping Maul, which stuns that target for 6 seconds. This is great if you want someone to tank for you.
Wailing Pendant, this summons Nal'tari and similar to bloodlust this gives you 30% haste boost for 12 seconds. This is a good choice if you seek big damage on your own.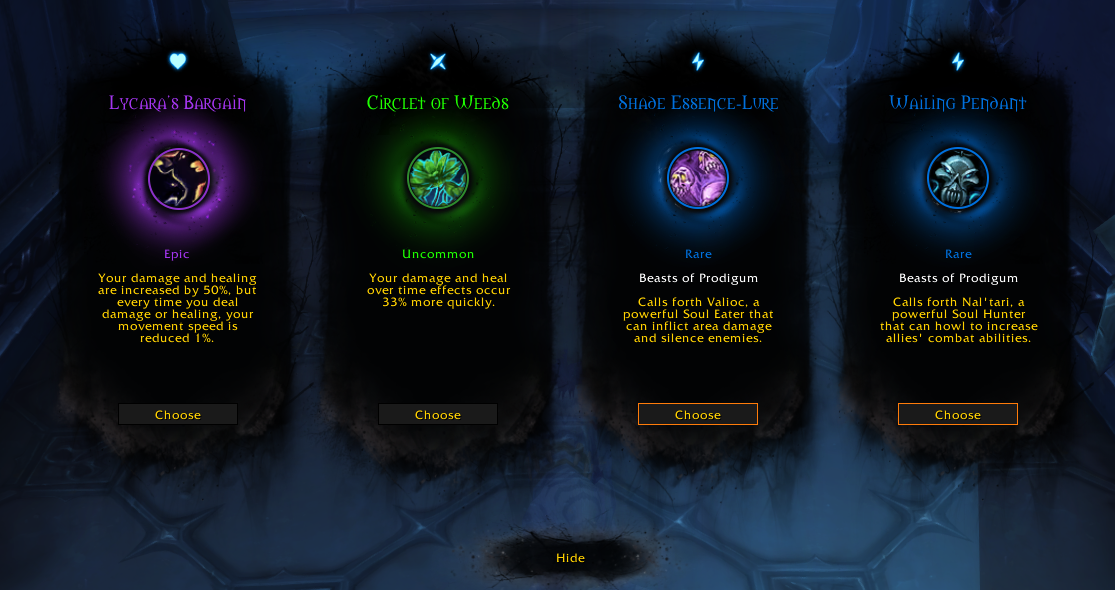 Choice of beast depends on what you are looking for in a partner. These beasts are immortal and will re-spawn after 20 seconds if they get killed.